First and Second Grade Read to the animals at Humane Animal Rescue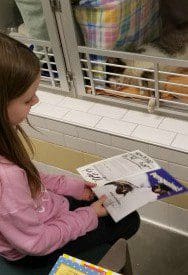 The first and second graders dropped off their collected donations at Humane Animal Rescue, and got to read to the animals there as well!
They didn't just read stories to dogs and cats in the shelter, but read to guinea pigs, turtles, bunnies and even a snake!
This is just one of several service projects that KAS students have participated in this school year.