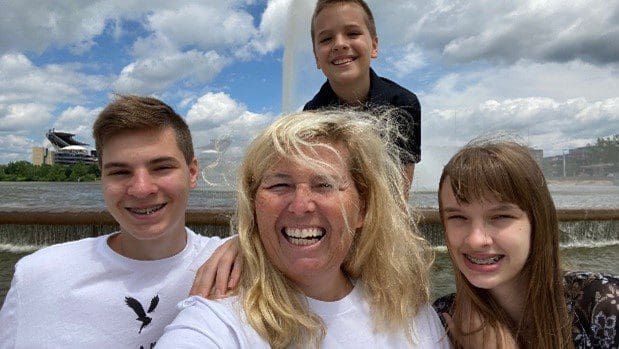 In the past two days I have taken two very important walks with my stepchildren. They seemed like normal, regular walks at the time, but when I was asked to write a letter to Kentucky Avenue School community, I thought about these walks again.
The first walk was with three of my four stepchildren. We brought our dog, Rudy, and we headed to Point State Park. We parked on the North Side and walked across the Fort Duquesne Bridge. On the bridge someone had written a quote, "If you really want to see things fully, then take a walk with a child." Well, I was doing just that, I was walking with Max, age 10, Reagan, age 14, and Colton, age 15. We walked along pointing things out, laughing at our dog, joking about pushing one another into the river. When you finally have a chance to meet me, you will realize, I love to talk, but after reading that quote, I stopped talking and started listening. I listened to these tweeners and teenagers.
In this busy world, we all have a lot to do, a lot of places to go, and a lot that is demanding our attention. When you finally take a moment to pause, as summers often give us a chance to, you'd be amazed at what you might hear. I heard Reagan ask, "How long would it take to swim across this river?" I heard Max point out the amazing patterns on the reflecting pools under the bridge by the fountain. During our walk I also tripped twice! Guess who was there to catch me both times? Colton, my now 6'1" teenager.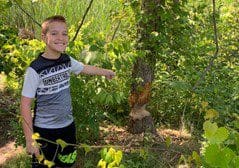 Today's walk was another exercise in listening. Max, Rudy and I went for a walk early on this gorgeous morning on a different trail than we normally take. About halfway through our walk, Max said to me, "That tree is about to fall down." I looked carefully at the tree and thought that my son was mistaken, but luckily, I didn't verbalize this. He pointed to the section that he could see and said, "Look!" The tree had clearly been chewed on by a beaver! I have never seen this before and neither had Max. We looked closer at it, took some photos and came home to immediately do some research on beavers!
I share both of these stories as a view into my thinking when I decided to become a part of Kentucky Avenue School. At KAS, I found a place where the classes are small, but the ideas are BIG! A place where the teachers have the inclination and the opportunity to take the time to LISTEN to children. The environment allows children to wonder and ponder, just like a walk on a sunny day. The teachers and parents I met all said the same thing, they loved that the children's ideas are valued.
I look forward to leading a school where children's voices are as loud, and probably louder, than the adults in the building. I am also so grateful to surrounded by adults who listen to those voices and value them. I can't wait to meet each of you and hear your thoughts on Kentucky Avenue School, but don't be surprised if I take a little more time listening to your children's thoughts!
Joyfully yours,
Ellen McConnell Sanderson
Head of School
​​