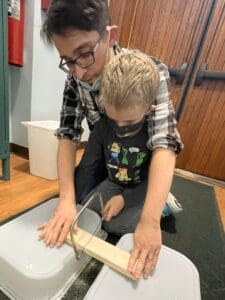 Affording KAS
Developing a student body that reflects a diverse community is central to our mission. We believe every child can benefit from a KAS education, and we strive to make our school accessible to all families.
What does my tuition cover?
KAS is one of the more affordable private school options in Pittsburgh. Tuition rates cover all instructional fees, including materials, and school supplies. We expect all parents to contribute toward the tuition cost to the extent they are financially able. KAS will work with families to determine this level and encourages all who think they may need assistance to apply.
KAS Financial Aid in a snapshot

How to apply
The application for financial assistance and determination of eligibility is processed online through the KAS FACTS link. For more information or questions, please contact Ellen McConnell Sanderson, Head of School, at ellen@kentuckyavenueschool.org or 412.361.5332.
Can I afford a KAS education?
KAS is one of the more affordable private school options in Pittsburgh. Our adjusted tuition considers your family's financial picture, including expenses such as the amount of parental/guardian student debt, childcare and eldercare expenses, etc. Financial Aid awards are made based on the availability of funds and are consistent with established guidelines.
What is financial aid?
Our financial assistance funding is intended to help families bridge the gap between income and their ability to pay the total educational expenses. It is a grant used to offset tuition costs and does not need to be paid back to the school.Financial Aid is granted to those determined to be in need on a first come, first served basis.
We provide financial aid to approximately 30% of our student base.
Financial Aid Process
Families can apply for financial aid online at the KAS FACTS link. An analysis will be sent directly to Kentucky Avenue School. Families must submit a new financial aid application each year. Aid is granted for a period of one year, based on current information. Any changes in a family's situation may change the amount awarded from year to year. Financial Aid applications will not be processed, and funds will not be awarded until all documents are submitted.
Frequently Asked Questions:
Does applying for financial aid have any bearing on the admission decision? No. Admission decisions are completely independent of financial aid.
Do you offer tuition discounts other than financial aid? Yes, KAS offers a 3% discount for tuition if a single payment is made in full by August 1st, prior to the start of the academic year. (Not applicable to tuition reduced by financial aid).
Does KAS provide sibling discounts? While we do not offer discounts to families with multiple children, the FACTS application accounts for families with multiple children, among other extenuating factors that could impact a family's ability to pay full tuition costs.
What if I miss the deadline for turning in the application? If there are any financial aid funds remaining after all on-time applications have been processed, a late application may be considered for a reduced award.
What happens if my application is incomplete? An incomplete application will not be processed. It will be processed once the application and all related documents have been submitted.
Is there an appeals process? To appeal a decision, send a letter to the Financial Aid Committee explaining the reason you believe the Committee should reconsider. New information must be submitted along with documentation.
Is there a cutoff in terms of income to qualify for financial aid? No. Income is just one of several factors taken into consideration when calculating need.
What are the main reasons that financial aid is denied? Incomplete financial information or too much income.
To apply for financial aid, please complete the following steps in FACTS:
Upload Tax Form 1040, including all schedules and attachments
Upload Tax W-2(s) and/or 1099(s) forms
For more information or questions, please contact Ellen McConnell Sanderson, Head of School, at ellen@kentuckyavenueschool.org or Sherry Wolfe, Administrator, at sherry.wolfe@kentucky@kentuckyavenueschool.org, or call 412.361.5332.
(Confidentiality) All financial information submitted to KAS is treated with the highest standard of confidentiality. Following the best practices of independent schools, there are no current parents, faculty members, or current Board of Trustee members on the Financial Aid Committee.